Meet Mojave Max
Meet Mojave Max
Hi, I'm Mojave Max!
I'm the official mascot for the Clark County Desert Conservation Program and its partners. Since 1995 I've been telling folks about native species, what they can do to protect their local environments, and how to safely explore and enjoy our desert!
Please look around my website and learn all about how you can respect, protect, and enjoy our wonderful desert!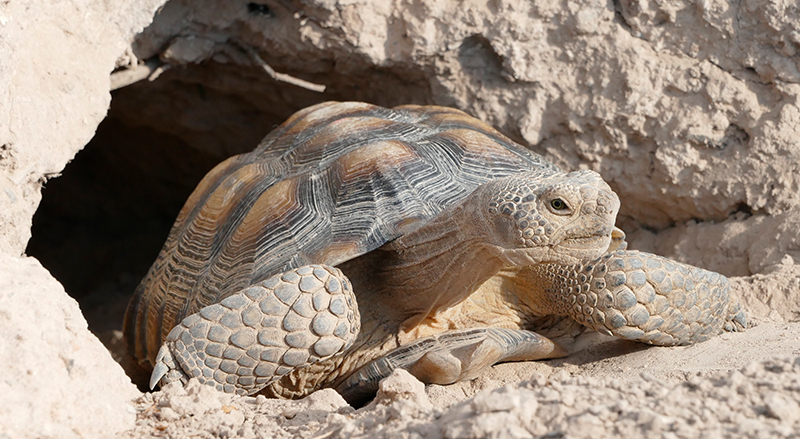 Did you know?
Did you know that Mojave Max is a real live Desert Tortoise who lives at Springs Preserve? Like other Southern Nevada reptiles, Max enters a burrow to brumate (the reptilian form of hibernation) every winter and emerges every spring. Mojave Max's emergence marks the unofficial start of spring in Southern Nevada. Mojave Max was born in 2004 and calls Springs Preserve his home.
What Does Mojave Max Do?
Mojave Max has hosted the annual Mojave Max Emergence Contest since 2000 and has come to be known as quite a weather indicator for the west coast.
The Mojave Max mascot visits schools and teaches students about the Mojave Desert that we live in, all about Desert Tortoises like himself, and he also tells students all about the Mojave Max Emergence contest.
Mojave Max would love to be a part of your school curriculum. If you're interested in having the Mojave Max mascot visit your school, talk about desert tortoises, and tell you more about the Mojave Max Emergence contest, please have your teacher contact the Clark County Desert Conservation Program. You can email Audrie Locke or call her at 702-455-2705.
The Mojave Max Education Program conducts educational assemblies for grades 1-5 in Clark County schools in the fall and winter months each year. The assembly application is currently closed and will reopen next year. Please check back next year when the applications are reopened. Maybe Mojave Max can visit your school next!!
Until then, check out the Kid's Adventure page and the Resources section of the website to find fun things to do with Mojave Max.
Remember
Mojave Max wants you to enjoy our beautiful desert. Remember that you can help preserve our desert by doing the following:
Always stash your trash. Please don't litter.
Leave soils, rocks, plants, and animals alone.
Stay on established roads and trails.
Please respect, protect, and enjoy our desert!
Resources for students and teachers
Mojave Max believes in enjoying his desert home and he wants everyone to learn how to keep it safe, how to Respect it, Protect it, and Enjoy it. To do that, he and his friends have collected many fun resources that will help you get started exploring his world.